Game Series: Gibbous
November 30, 2020
Phew! It's been a while, but here we are the first new article on the renewed blog! 🎉
A fairly recent point and click adventure game called Gibbous.
Gibbous, personally I found it a bit of a strange word, is apparently a synonym for "humpbacked" and also a descriptive term for when the moon is nearly full. Who knew, right?!
The Romanian developer "Stuck in Attic" developed and published this Lovecraft inspired Cthulhu themed game. If you're not familiar with Lovecraft and Cthulhu, just think of cultists, voodoo, mythical monsters and all kinds of strange and arcane phenomena!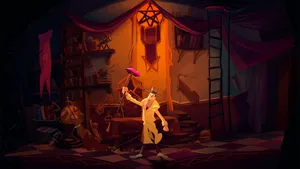 Intro
We'll crawl into the skin of a private eye called Don R. Ketype, a real film noir type detective, living in Darkham. Don is hired to find and retrieve the most dreaded book of all books, * read in crazy cultist leader voice * The Necronomicon! And as far as ultimate evil books go, this one is no different. The Necronomicon is rumoured to contain all sorts of spells that give its master the power to unleash an imaginable evil into the world.
The game starts with Don following up on a lead to the Miskatonic library, the mythical Necronomicon is rumoured to be hidden there. And what better way to hide a book than in a library, right?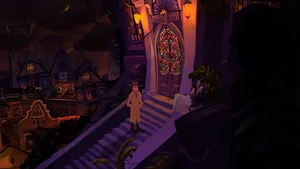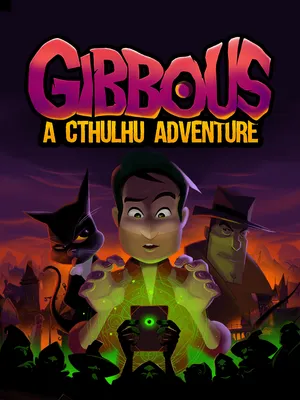 What to expect?
Gibbous has drawn inspiration from various sources besides the HP Lovecraft's novels. To name a few: classic point & click adventure games such as Day of the Tentacle, Monkey Island and so on..., Hitchcock movies, classic Warner Brother cartoons and Hayao Miyazaki's richly detailed environment art.
Gibbous is wonderfully dark and humorous, with just the right amount of sarcasm, all wrapped up in a nice story driven adventure game!
The story let's you swap between 3 main characters, a seasoned detective, the laidback librarian and his synical Kitteh! Will you bring their story to a positive end?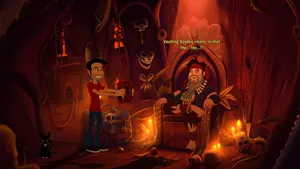 Give me a clue
In terms of difficulty, I personally have to admit that Gibbous is pretty easy to play through. Not Freddi the Fish easy, but still... maybe a little too easy if you are like me and crave for a little challenge.
But if you're not an experienced adventure gamer or simply don't find it all that logical, you can find hints in Don's diary every now and then.
Graphics
The game is simply stunning! The hand painted style and detail rich environments are really appealing to the eye. But if I have to say one negative thing, then it would be the out of sync mouth animations. That was pretty much the only thing that drove me crazy. The mouth movements aren't coordinated in the game, just pretty random animations.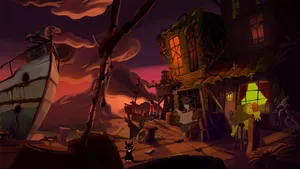 Play it now!
Gibbous can be played on all operating systems (Windows, MacOS, Linux) and can be bought on both Steam and GOG.com, or you can buy it for your Nintendo Switch. So it shouldn't be too hard to find!